For a fulfilled & happy life abroad with your loved ones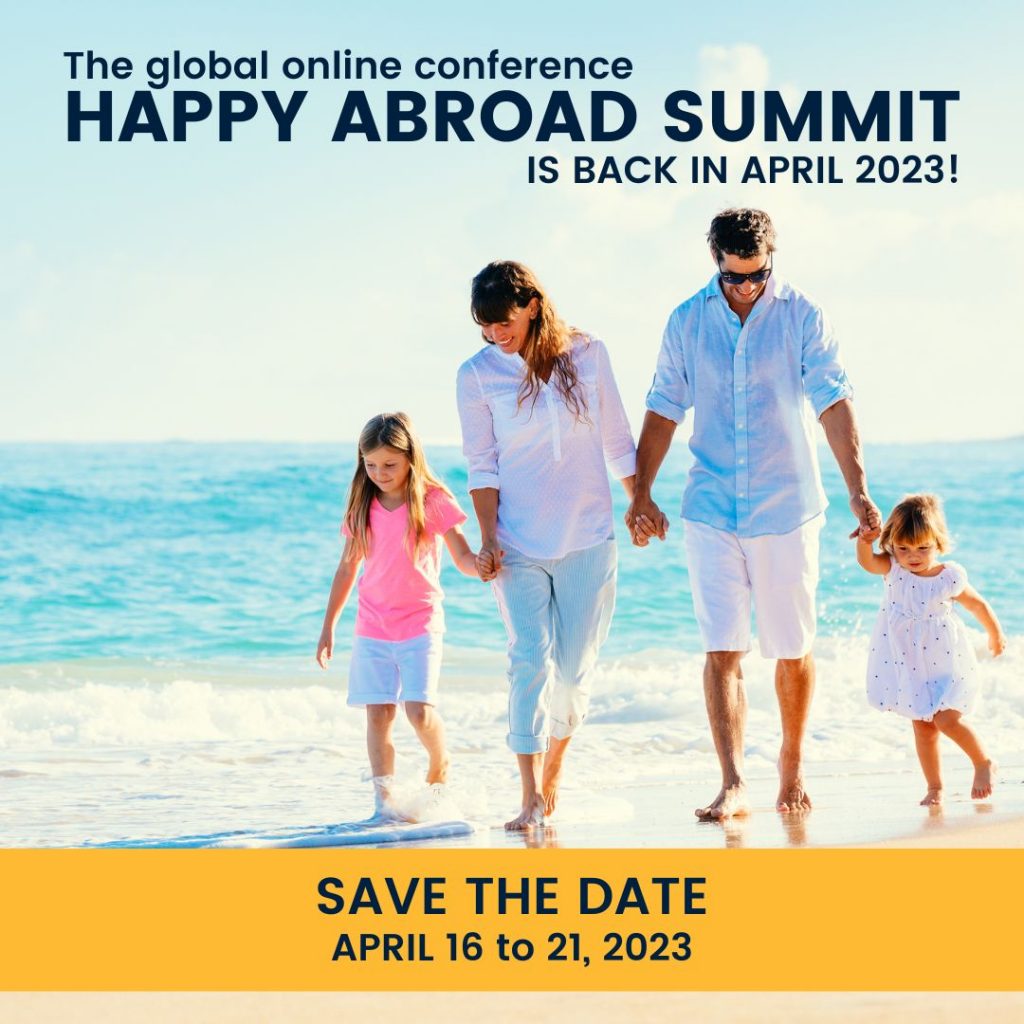 🤩 When moving to a NEW COUNTRY, at first we are super EXCITED. We look forward to amazing EXPERIENCES together with our loved ones and to EXPLORING new places.
🤦🏻‍♀️ And then REALITY HITS. Actually living abroad, establishing a daily life in which we thrive and are happy, becomes more of a challenge than we had initially expected.
After two very successful events, the HAPPY ABROAD SUMMIT is now going into its third round!\
The Happy Abroad Summit is a go-to resource for international individuals, couples and families, who feel overwhelmed, frustrated and stuck in their life abroad.
Join this online conference for a fulfilled & happy life abroad with your loved ones.
YOU GET:
🙂 Essential skills for more HAPPINESS abroad
👨‍👩‍👧‍👦 Tips & tricks for a relaxed and fulfilled FAMILY life
🧡 Expert knowledge on how to build strong & intimate CROSS-CULTURAL RELATIONSHIPS – in your family and with friends
💡 Insights from expat & intercultural families on how to get settled quickly and THRIVE abroad
🔋 Simple & efficient hacks for more ENERGY in your new environment
QUICK FACTS:
📆 April 16-21
💻 It is all happening ONLINE – from the comfort of your living room
💬 6 themes – we are covering common challenges for international families
👤 20+ global experts and YOU – an amazing international community of like-minded people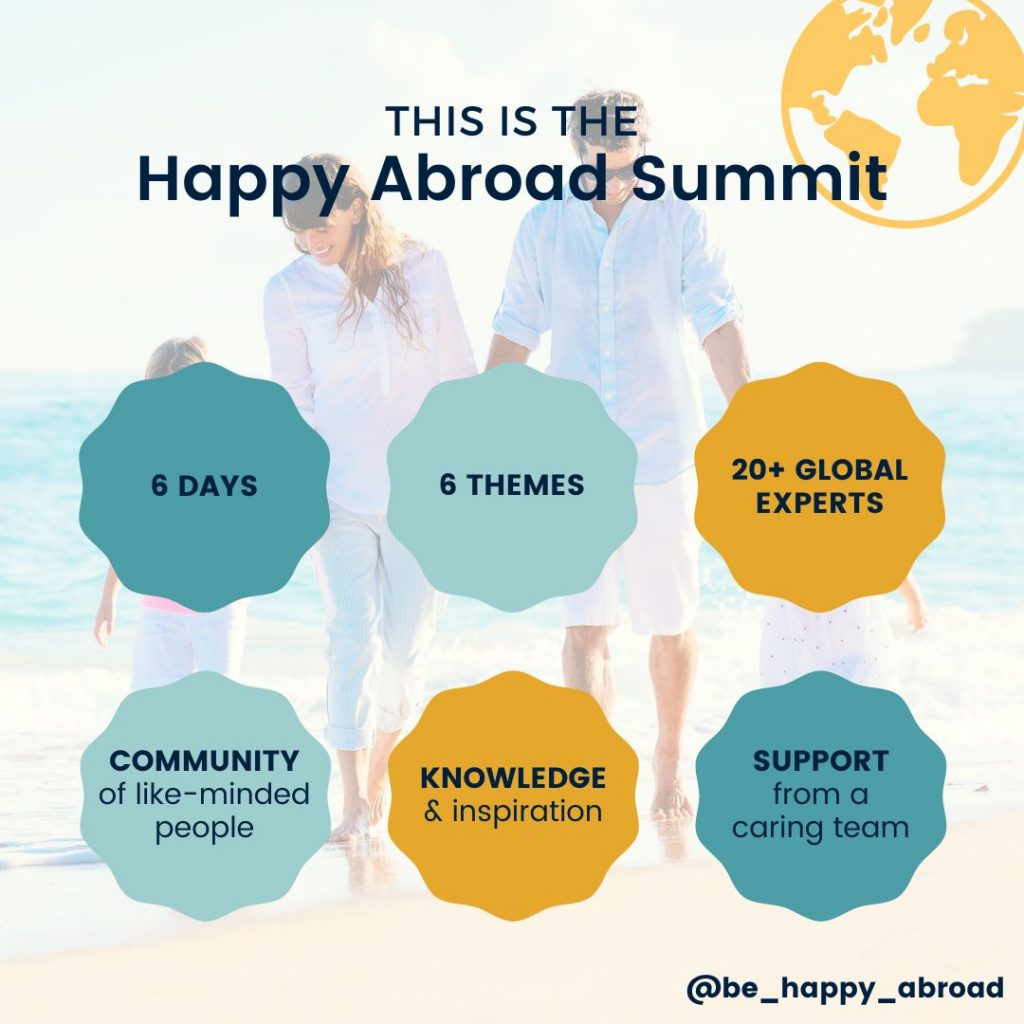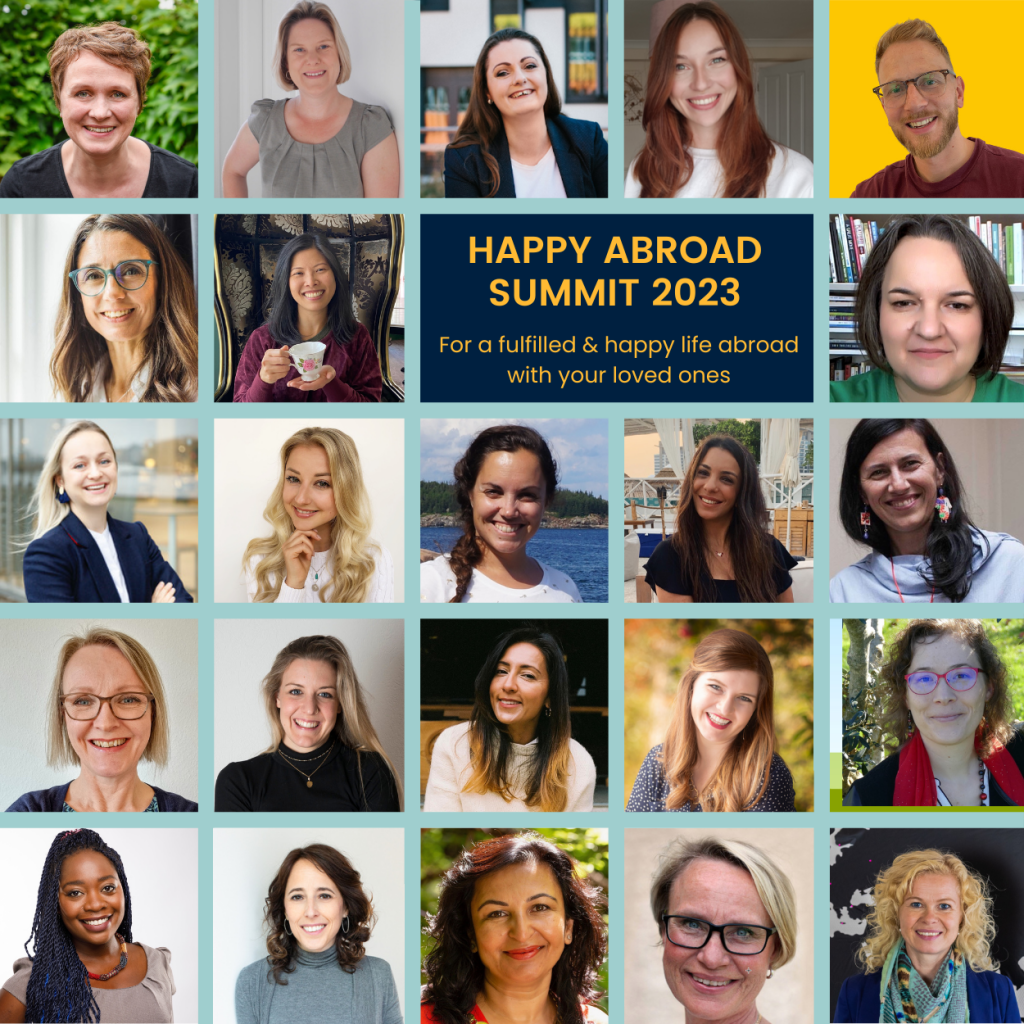 You're going to be inspired by, learn from & connect with 23 global experts in their field! 
🔸 Navigate an international & intercultural life
🔸 Strengthen your happiness skills
🔸 Discover your life purpose & grow your career
🔸 Build deeply connected & intimate relationships
🔸 Create a thriving family life
🔸 Establish sustainable feel-good habits
Together, we're delivering an event that is
🌟 inspiring 💡 insightful 😀 uplifting 💃🏻 empowering  🤯 eye-opening
…EPIC 💥
What makes this possible?
💎 The unique power & magic of co-creation, combined with
🧡 a positive & caring community.
We would love YOU to be a part of this, and inspire others with your story, ideas & way of being. 🦋
It is 100% FREE!
So what are you waiting for?
Sign up NOW , and if you can't plugin on the day, there are ways to rewatch the recordings.
I will talk about one of my favourite topics: REINVENTION.
I will share my TOP 3 TIPS on how to Reinvent yourself when moving abroad.