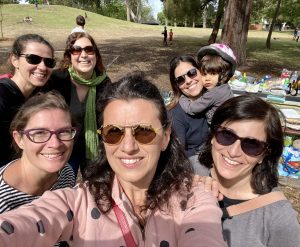 A few days ago my daughter asked me who my best friend is.
"Good question!" I state, and I start ruminating on names. "Who is my best friend?".
I feel she just touched a soft spot inside me, and I feel uneasy. It's a bloody difficult question to answer to my daughter, because in contrast, best friends are everything for her in this life stage.
I hesitate a bit, my mind wandering among the thoughts to see if an answer appears, then I tell her what has been clouding in my head for a while: I don't have A best friend.
I have the privilege of having best friends in every country I have lived in. And they were there in a specific phase of my life.
Because, to be honest, I never really had the classic childhood friend or the group of friends you would spend every teenage summer with.
I had, I think, what I needed to find in every moment of my life.
different friends for different life stages
When I was in Bangkok, I had the support of my own national community abroad, helping me navigate the first odds of a culture shock. But then after a while it all clashed with an aspect of my own culture: judgment. It was then that I started to move away from that community, feeling a toxic attitude used to interpret all realities the same way. I was experiencing a shift. From being far away I began understanding cultural differences and what did not resonate with me.
When after a few years I found myself with young children, but no family around, I experienced what is defined:" it takes a village to raise a children". The International community of the school was my village. We all were in the same situation, with our own diversities. And we were helping each other the way we could, blending or rounding off our own cultural differences.
A friend gave me connection with her curiosity towards my "adventures". 
Another friend gave me maternal support while moving, looking after my own children when I was cleaning kids finger stains from the wall down two flights of stairs.
A strong woman with whom I shared very little time, but taught me to go deep within myself with her meditation classes. We shared a lot of our own stories and experiences.
A confident woman listened to me while telling about family ties and patterns, but also about being mothers to our children, and being working mothers in a foreign country.
I don't have many male friends, but perhaps one of my best friends is my brother. We talk for hours when we can reconnect, after having lived apart for years, not sharing much during those times. But something happened when it was the right time for us to reunite, and since then we are building a great and deep relationship.
So for me friends have been gifts with whom I grew, learnt and walked a path.
FRIENDS PLAY DIFFERENT ROLES IN OUR LIFE
I know that for many friends it means the safe space, or represents consistency while the geography is changing with constant country moves.
And that is the beauty of it, it means richness. The variety of roles friends play in our life, the different meaning friendship has for everyone. All are important and valuable.
Thank you, Juliet for asking this brilliant question. It made me reflect a lot, and write this post that probably resonates for many of you out there in "abroadland". 
Happy international Friendship day everyone!