Living abroad comes with a set of joys and challenges.
When there's a family, bringing up children across cultures may bring questions and more reflections.
I have found myself reflecting about the way I parent my children.
I have an Italian upbringing but then living in a foreign country I came across different ways of dealing with what are considered age-appropriate activities, sleepovers, birthday parties, friend relationships.
Questions like: "what age it safe to go to the mall with girlfriends, who is in the house when they say they are doing homework, their nails, or playing video games?
Every family has their own way of parenting, plus the cultural values they live by.
Also, common sense is not unique. There are multiple common senses.
Despite the many manuals you can read, there's nothing as valuable as an insight from people that deal with those questions daily.
What I love about my job is that I personally go through phases, I test, I make mistakes, I learn. Also, I had the chance of meeting amazing individuals and professionals who have the same interest in caring for a growing community.
I want to start sharing interesting conversations about the topic of Parenting between cultures. I will be joined by other parents, experts and professionals and together we will add pieces to the puzzle for a more conscious way of parenting our children while living across cultures.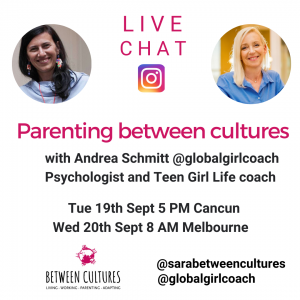 Join me and Andrea Schmitt, Psychologist and teen girl coach next week for the first conversation LIVE on Instagram.
Check your timezone and click on the reminder below the blogpost and in the stories (on Instagram).
The chat will be visible on the following accounts LIVE, so I encourage you to join us if you like to ask questions. Once finished will be available as a replay.
​https://www.instagram.com/sarabetweencultures/​
​https://www.instagram.com/globalgirlcoach/​
​
TUESDAY 19TH SEPTEMBER
3 PM SAN FRANCISCO – 5 PM CANCUN – 6 PM NEW YORK
WEDNESDAY 20TH SEPTEMBER
8 AM MELBOURNE – 10 AM AUCKLAND
​