RIB1: Beyond the professional identity – With Linda Mueller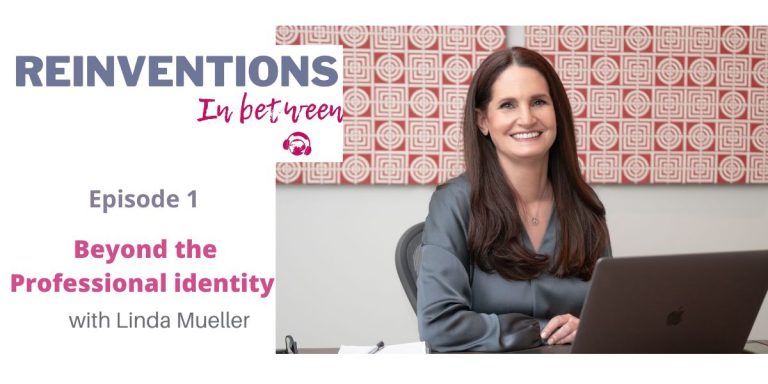 REINVENTION TYPE: THE ONE THAT HAPPENED WHILE ABROAD
Many expat spouses believe that a move abroad will result in a detrimental outcome for their corporate career. What if the consequences of that move would be unexpected? 
Linda Mueller experienced this, she went through a change that helped her to understand more about identity, self-worth and aspirations. 
"My identity and self-worth were tightly  intertwined with my corporate career. "
In this episode, Linda shares the challenges and the surprises of her transformative journey, learning how important it was for her to be authentic and true to what matters to her. 
LISTEN AND YOU WILL LEARN
Why stepping away from a corporate career can help you reflect on your other inner talents. Linda says she discovered her "super powers" while abroad.
How volunteer work can be a possibility to experiment roles and highlight unused skills, and repurpose them in new ways. Sometimes a move abroad can open up possibilities.
The importance of working on your individual VALUES, in non "Coaching language", what is important to you, what matters.
"My first 3 years in Tokyo resulted in a crash course in personal development."
Linda mentioned a BOOK that helped her during her process. "The most impactful book was: Is  Your Genius At Work? by Dick Richards. Once I realized  creating connections was my 'genius', my journey made sense to  me. "
Linda Mueller is a certified life coach and mentor who empowers expat partners/accompanying spouses to create a life they love; one that flows through the ups and downs of the expat/repat cycle. 
Linda is a former corporate climber with 10+ years of expat partner experience in Asia, the Middle East, and Europe. She created a location independent career as a certified life coach and mentor while living abroad. Linda currently resides in Chicago (USA) with her husband and tween TCK.
FIND LINDA ONLINE
Instagram @theexpatpartnercoach 
Website https://www.theexpatpartnercoach.com/
LinkedIn: www.linkedin.com/in/theexpatpartnercoach
Resources and Inspiration
1. Do you want to brainstorm about your Reinvention idea, or learn how Coaching skills can help you develop your project? 
You can book a free introductory Coaching session here.
2. Are you curious about Reinvention? Go download my free GUIDE: Your first steps
You will see how easy it is to take your first steps by looking at :
a.How you perceive CHANGE
b.Your values and your personality.
c.What are you ready to put in place tomorrow 
3. If you are ready to move forward and would like guidance and/or peers to work with: check out the Reinvention Revolution Program
Support us
Do you enjoy listening to this podcast show? Leave your review on your favorite app – Apple, Spotify, Google Play
Share Your Thoughts
Connect with me and share your comments!
Want to be on the show? 
I can't wait to hear your unique story of reinvention, and share it with the community.
Listeners will be inspired, will learn and find other people's experiences relatable and encouraging,
Do YOU have a story of Reinvention to tell the world?
Be one of our speakers to inspire others.
Grab the questionnaire below.