RIB5: From luxury design to eco-ethical, a shift driven by values – with Anastasia Stayunichava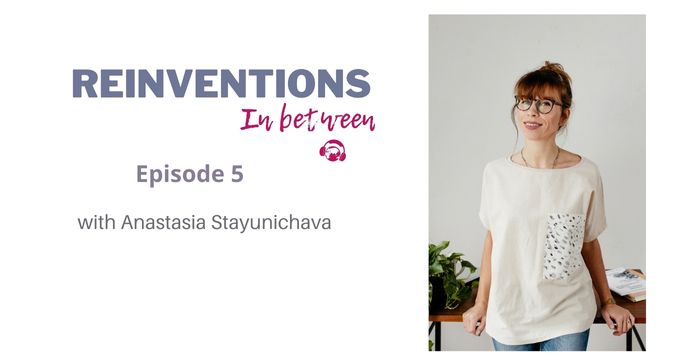 This episode focuses on REINVENTION reasons
Anastasia was working long hours as Export sales Manager in the luxury design and furniture industry, which gave her lots of opportunities, network contacts and a good income.
But it was far from her personal values and beliefs.
Anastasia is a fan of sustainability, practicing yoga and living according to the principles of LESS IS MORE.
"I was in my old job, making good money, but I constantly had this inner voice asking: Is this really what I want to do in life? "
LISTEN AND YOU WILL LEARN
How important personal values are and why they play a big role in our Reinventions

Why you need to allow time and patience when transitioning from employee to entrepreneur status

What key ingredients she used for her new business "recipe"

Reinvention does not mean we have to start from scratch
One day she decided to take a gap year from her lucrative job and moved to Tuscany.
She had a lot of doubts crowding her mind. But she needed that quiet time to focus on herself and get clarity.
She then hired a business coach to help her work through her questions and reflect on this transformational phase.  
The work with the coach helped her to highlight the things that truly mattered to her: her values.
Anastasia was an observer in her industry and understood a few things that made her question her lifestyle and her profession.
3 years ago she saw big companies advertising their commitment to acting as green companies. But big corporations were actually not acting according to what they were preaching. 
Companies have used trendy words like transparency, being green and ethical in communication to claim their compliance.
Anastasia has experience as an insider, having worked for these big companies, she knows how green campaigns are used to market well. She uses this knowledge and awareness to help the small ethical business who would struggle in competing with big names.
Anastasia draws from her past experience and now helps small companies to grow and advertise in an ethical way.
the struggles
At the beginning, the fear of being alone, not understanding how the project would unfold, were the biggest challenges she had when moving her first steps through her business project.
She was also carefully paying attention to how to settle the good foundations for a new entrepreneurial startup, being aware that her professional past was as an employee. She had to learn how to wear many hats and cover different roles as a solopreneur.
Time and patience help to adjust the shift to a different type of work.
skills and competences
Strong determination, professional experience, networking and mindset are the key ingredients she used for her new business "recipe".
Something she discovered while in a new country that helped her do better in her work, how to reflect on personality traits to maximize your success. 
When Anastasia moved to Italy, she recognised that traits of her own culture differed from the host country. She then understood how‌ diplomacy can play along with straightforwardness in order to have a good negotiation strategy. While in Belarus, women are generally strongly determined.  
If you want to learn more on how to leverage your personality to determine the success of your project, check out my webinar and the Personality test.
" Reinvention does not mean we have to start from scratch".
here is my winning formula
When we need to find strength, we can only look inside ourselves  

Experiences are our main assets, together with our skills toolbox.

When we are searching to define our brand, we have to look at our own personality.
Moving to a different industry or job position can be easier if you embrace the ability to blend personal and professional experiences.
The biggest enemy for Anastasia throughout the process was not being patient, but wanting things to happen quickly. She now suggests anyone who starts a new project to do baby steps and have time. 
My coaching tip: "You first need to understand who you are and who you want to become, where you are in your reinvention phase, what you need to do and when to start the process."  
Check out my free exercise guide Your first steps.  
FIND ANASTASIA ONLINE
Anastasia Stayunichava  is a sales & strategic marketing manager, expert in ethical and sustainable business
WEBSITE: https://en.anastasia-stayunichava.com

INSTAGRAM: https://www.instagram.com/business_etico/

LINKEDIN: https://www.linkedin.com/in/anastasia-stayunichava-0396a467/

PODCAST: https://open.spotify.com/show/7fFJH5QVEbZb843sNVV5A0?si=255593dbf1ad4ff2&nd=1
Resources and Inspiration
Do you feel fulfilled in life or in your job? Do you think what you are doing is valuable? Download for free the Wheel of Life and discover which score you'd give to aspects of your life.
We can then discuss how balanced your drawing is.
1. Do you want to brainstorm about your Reinvention idea, or learn how Coaching skills can help you develop your project? 
You can book a free introductory Coaching session here.
2. Are you curious about Reinvention? Go download my free GUIDE: Your first steps
You will see how easy it is to take your first steps by looking at :
a.How you perceive CHANGE
b.Your values and your personality.
c.What are you ready to put in place tomorrow 
3. If you are ready to move forward and would like guidance and/or peers to work with: check out the Reinvention Revolution Program
Support us
Do you enjoy listening to this podcast show? Leave your review on your favorite app – Apple, Spotify, Google Play
Share Your Thoughts
Connect with me and share your comments!
Want to be on the show? 
I can't wait to hear your unique story of reinvention, and share it with the community.
Listeners will be inspired, will learn and find other people's experiences relatable and encouraging.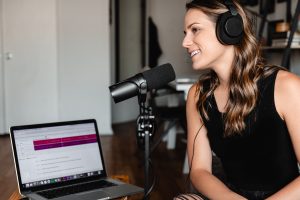 Do YOU have a story of Reinvention to tell the world?
Be one of our speakers to inspire others.
Grab the questionnaire below.