RIB1S2: She moved abroad, grew professionally and published a book with Charlotte Rijkenberg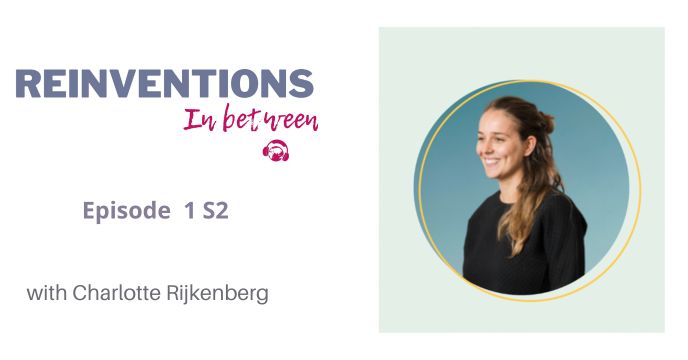 This episode focuses on RE-thinking and opportunities 
Charlotte, originally from The Netherlands, decided to move to Sydney ten years ago with just a suitcase and lots of excitement about the future.
The move brought many opportunities, both personally and professionally.
She is now in Lisbon and has a new job as a Creative Marketing strategist with personal creative projects at a side as well.
"At some point in my early twenties, my life was going very well – but I wanted something more. I wanted to avoid the standard flow of study/work/marry/kids – I wanted to challenge myself, to discover more of myself and what I was capable of. So, I decided to move to the other side of the world, to Sydney, Australia. "
I often say how limiting it is to stay in a strict view of life as linear. Accepting instead those squiggles, get along with them, see where they lead us, and consider as part of the big puzzle it allows us to be whole. We become more productive. 
"Sometimes we are stuck in our own way of doing things" 
She decided to move and embrace the adventure despite family and friends warning her with negative responses.
Charlotte did not feel discouraged and felt the curiosity to go discover by herself.
The challenge of moving to a new country allowed her to thrive and blossom as a person. The experience gave her a lot of confidence and strengthened her self-esteem.
"Moving abroad gave me the opportunity and confidence boost that I needed to go out there and live my life".  
Charlotte has an adventurous spirit and is definitely a determined and outgoing person. Traits of her character that seem to make such an experience easy. But having to build up a new life in a foreign country, "my curiosity and open-mindedness have evolved during this time" she reflected. 
Our personality and how we grew up shape, determine our decisions. But then the adventures we decide to embrace keep molding our personality.
I asked her what values she has honored in deciding to embrace this adventure. Charlotte said:"Respect and curiosity – I believe both are significant if you move to a new country, with a new culture and new ways of living. Respecting that and being open and curious to learn from others or from diversity itself.
The experience of moving abroad had an influence on her professional life too.
"Meeting new people from all over the world and seeing and hearing how they approach certain things. That is something that really inspired me and allowed me to see new opportunities for myself too". Being confronted with different situations and scenarios daily, builds resilience and ability to adapt.
"Deciding to quit my job and go for a role in a startup company that would pay less, but I saw it as an amazing opportunity". 
Since that professional experience which challenged her, because it differed greatly from what she knew, Charlotte added skills in her toolbox. That new work made her grow and learn, even if she could use competences from her previous background, such as project management. It just had to be adapted to the new context.
She is now in Lisbon and has a new job as a Creative Marketing strategist.  
MENTORING TIP
We have to look at our own assets when thinking of change or reinvent. These are the best resources we can repurpose in different contexts and industries. I call it THE SKILLS TOOLBOX. 
"If not now, then when?"
What struck me the most about this story is how she could bring all those little gifts and challenges collected during her experience abroad and put  them all in a creative project that she realized during the pandemic.
Charlotte's creative genius led her to come up with a workbook to support all those that want to embark on an experience abroad. 
In lockdown, with two young children running around in the house, she realized her dream.
Her growth mindset allowed her to think forward and she states: " After this is all over, I am sure many people will have a new sense of what they want in life, and probably moving abroad would be one of those things".
Her book "Let's move abroad" is now published and available to purchase.
Charlotte leveraged her 10 years' experience and created a product out of her passion, with the mission to help others pursue their dreams of living abroad.
LISTEN AND YOU WILL LEARN
How to turn your own experience into a project, a product or a business

Passion is the fuel, even if you question the project at times, or if you feel like quitting

Lows always come and go, allow them to be and look at them shifting away. Everything works in cycles.

Allowing ourselves to listen to our needs, be compassionate and do self care
Charlotte Rijkenberg is Brand Strategy & Marketing Consultant. She is now also a Self-published Author.
She currently lives in Lisbon with her husband and their two children.
When she isn't planning a move, chasing a dream (like writing a book), or coming up
with creative business ideas, you can find Charlotte singing Disney songs with her kids
or watching an acclaimed HBO series.
FIND CHARLOTTE ONLINE
https://www.instagram.com/letsmoveabroad/
Resources and Inspiration
Do you want to brainstorm about your Reinvention idea, or learn how Coaching skills can help you develop your project? 
You can book a free introductory Coaching session here.
Are you curious about Reinvention? Go download my free GUIDE

:

Your first steps 
You will see how easy it is to take your first steps by looking at :
a.How you perceive CHANGE
b.Your values and your personality.
c.What are you ready to put in place tomorrow 
If you are ready to move forward and would like guidance and/or peers to work with: check out the

Reinvention Revolution Program
Support us
Do you enjoy listening to this podcast show? Leave your review on your favorite app – Apple, Spotify, Google Play
Share Your Thoughts
Connect with me and share your comments!
Want to be on the show? 
I can't wait to hear your unique story of reinvention, and share it with the community.
Listeners will be inspired, will learn and find other people's experiences relatable and encouraging.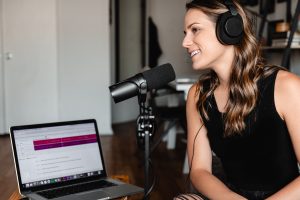 Do YOU have a story of Reinvention to tell the world?
Be one of our speakers to inspire others.
Grab the questionnaire below.