RIB2: The path to become who we are meant to be with Shellee Burroughs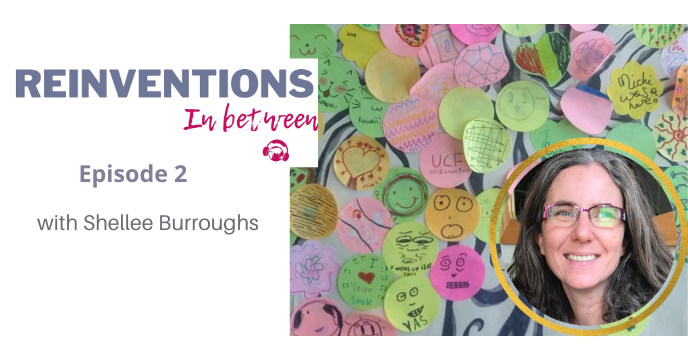 This episode focuses on REINVENTION process
Very often we believe that the normal professional path is: we have an aspiration, we get an education, and we go out to find the job we were trained for.
Many times these paths are not linear, but include shifts. Those shifts typically happen as people make discoveries about themselves and gain new insights about their preferences.
"Ten years worth of clinical experience made in 4 years time, operating in a different system, while I was in Malaysia"
"One of the challenges during one of Shellee's transitions:  not having a working identity, while I had a clear identity as part of an international community"
LISTEN AND YOU WILL LEARN:
How important it is to believe in your potential and stay true to your nature, especially when tough times make you doubt. 

We might have different parts of ourselves or skills that at first we think might not fit together, but working towards our aspirations they can all come together  

Joining an organization, hanging with like minded people, finding your tribe helps not only the reinvention transition, but can be fundamental for co-creation, collaborations and building partnerships. Plus you have peers to support you in the process. "Shellee says: "better a big island full of people and not a little rock by myself" 

Having the courage of being a trailblazer, opens up opportunities

Reinvention doesn't always mean starting from scratch. Repurposing skills and allowing creativity and inner work to happen, can be a great foundation for a new project, more true to who we are or love to do. We cover this topic in my Reinvention webinars, check

here

if you want to learn more.
Shellee's advice: find your big threads, that you can always use and bring with you 
"Art was one thread throughout my life that has always linked everything together" 
Shellee Burroughs is a Clinical Trauma Specialist and Art Psychotherapist who is trained and registered in both Canada and the UK.
She has 20 years experience of providing individual therapy for children, teenagers and parental consultation.
Her areas of specialization include trauma & PTSD ( Post-traumatic stress disorder ) in children & teenagers, cross and 'third culture kid' therapy sessions and international adoptee family consultation.
FIND SHELLEE ONLINE
Website:www.shelleeburroughs.com
Instagram: https://www.instagram.com/creativeglobalconnections/
Linkedin:https://www.linkedin.com/in/shellee-burroughs-6165b0a4/
Resources and Inspiration
1. Do you want to brainstorm about your Reinvention idea, or learn how Coaching skills can help you develop your project? 
You can book a free introductory Coaching session here.
2. Are you curious about Reinvention? Go download my free GUIDE: Your first steps
You will see how easy it is to take your first steps by looking at :
a.How you perceive CHANGE
b.Your values and your personality.
c.What are you ready to put in place tomorrow 
3. If you are ready to move forward and would like guidance and/or peers to work with: check out the Reinvention Revolution Program
Support us
Do you enjoy listening to this podcast show? Leave your review on your favorite app – Apple, Spotify, Google Play
Share Your Thoughts
Connect with me and share your comments!
Do YOU have a story of Reinvention to tell the world?
Be one of our speakers to inspire others.
Grab the questionnaire below.