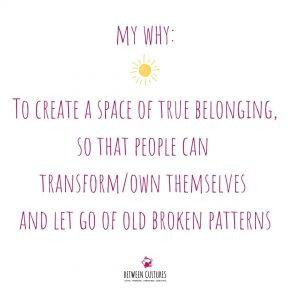 What is my Why?
Basically we can define what is our purpose, explain what we do by saying why we are doing it.
When I was in my 20s, I was often the one asking odd questions. I was curious, and would easily want to engage with others to understand or dig deeper a specific topic. But most of the people around me were surprised by my quest. I soon realised that the majority of people would live a simple life without questioning much about anything.
So when I enrolled in a coaching training in my last career reinvention, I was thrilled to see that one of the core principle of CoActive coaching is Fulfillment. 
You would ask:" what has fulfilment have to do with my why? With my purpose?". Well, when we live our life intentionally, and we follow a purpose- directed path, we reach our deep fulfilment. 
When trying to define our purpose, we ask ourselves questions like " What is my unique contribution to my family, my work and my circle? What difference do I make with ,y life?
This process takes time, and is a self discovery journey sometimes. Not everyone has a clear purpose three, ready to be shared. Life purpose is about using our talents, as well as our unique learning of life,  and wisdom. Our life purpose evolves with us,  with our experiences. 
I defined my latest WHY thanks to Charlie, a partner during a coaching training in break our rooms (I don't know how Zoom did it, but magic happens in those rooms ;P)
The values that surfaced with thought provoking exercises are: "feeling of acceptance and understanding", "change for self",  "sense of belonging", "feeling connected", "transformation and reinvention", "let go of the past", "crucial growth at the age of 40", "dancing is my happy place". And here are thos values organised in MY WHY, my purpose statement:
To create a space of true belonging, so that people can

transform/own themselves

and let go of old broken patterns
What about you? Are you living your life according to your purpose?
If you'd like to discover yours, book your free 30 minutes session here, and I'll explain you about the process.