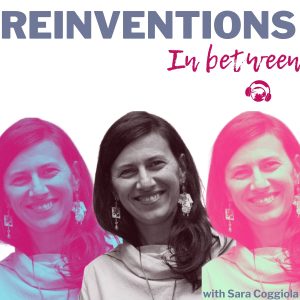 Buongiorno and Welcome to Reinventions In between,  your go to podcast for real stories of reinvention that happen between life stages, career changes and living abroad.
I'm Sara Coggiola, a Life coach and Intercultural trainer, helping people on their quest for what's next.
I have reinvented myself a few times, and in the past 16 years, I have collected fascinating stories of change.
In each episode, my guest will talk about why and how they took the leap and seized the opportunity to change their life.
You will learn about the different types of Reinvention, the processes the speakers went through, and the reasons behind those changes.
My goal is to inspire and empower the listener towards new opportunities.
I want to equip the listener with practical and coaching tools to take the first step towards change with excitement.
You'll hear accents, countries, vulnerability and hooray!
You can find more information and resources here.
Podcast: Play in new window | Download