Today I want to share a bit of local culture.
November's big celebration in Victoria is the Melbourne Cup.
The Melbourne Cup is Australia's most famous horse race, held over a distance of 3200 metres at Flemington Racecourse in Melbourne. It is said to be the 'race that stops a nation'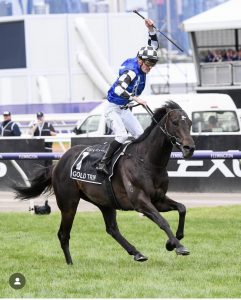 Melbourne Cup day is a public holiday for all working within metropolitan Melbourne 
the roses of melbourne cup
Flowers, especially roses, are an important component of the week's racing at Flemington. The racecourse has around 12,000 roses within its large expanse. Over 200 varieties of the fragrant flower are nurtured by a team of up to 12 gardeners. Each of the major racedays at Flemington has an official flower. Victoria Derby Day has the Corn Flower, Melbourne Cup Day is for the Yellow Rose, Oaks Day highlights the Pink Rose and Stakes Day goes to the Red Rose.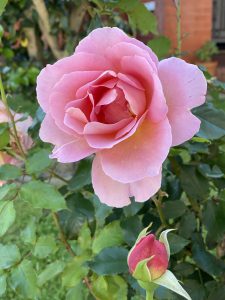 the fashion contest
Fashions on the Field is a very popular fashion contest held during the spring races festival, with prizes awarded for the best-dressed man and woman. The requirement for elegant hats, and more recently the alternative of a fascinator, is a must for all people who attend in person the races.
Spring racing fashion has its rules with specific days and specific dress code to respect. 
Everyone attending the races, and in private parties around town, are dressed up for the occasion, wear fancy clothes, hats and these beautiful fascinators. Pieces of art to wear. 
I did not attend the races, hell you should see the crowd !!!!
But I loved to try on these amazing head pieces. In the end I am a Libra, and I get caught easily with aesthetic !!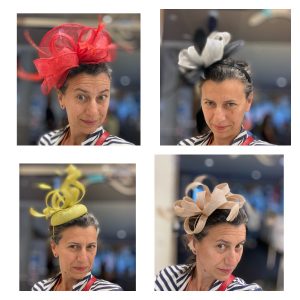 The Melbourne Cup is a very ingrained part of Australian sporting culture, as the country's most famous horse race. Watching the Cup and having a bet is a tradition for most Aussies, whether they're regular racing fans or not.
One common activity for groups such as office staff or within the family members is the "sweep", where each participant adds a small fee to a "pot" and draws the name of a horse like a raffle. Prize money is distributed to the person who draws the winning horse.
Our dear neighbours invited us over to watch the last race and do a family sweep. Needless to say, it was exciting for the kids.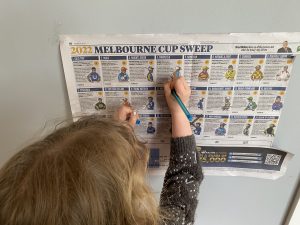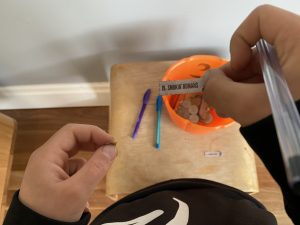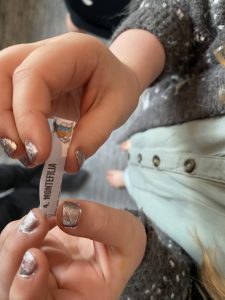 We felt we could be part of the local celebration, and not left out.
Even though we are not fan of horse racing, and we don't engage in betting. We just indulge from time to time to buy national lottery tickets when the prize reaches many millions of dollars $ !
Can you say no to so much money??? Imagine how many charity, educational, ethical project we could fund!
so, why am I wearing a fascinator?
During our time abroad, we can decide how much to be involved in local traditions and celebration. Even if some of the elements don't resonate with us. There's certainly a middle space where we can learn, acknowledge and not totally embrace.
I always use the bridge as a metaphor: we are in between and we connect two worlds, two cultures and we are always a role model for our children.
And you? How do you blend with the local culture?
Horse Photo credit @racingvictoria
Visit the talented Alessia @alex.and.queen ➡️ next time I'd love to try on some of her creations 🤩